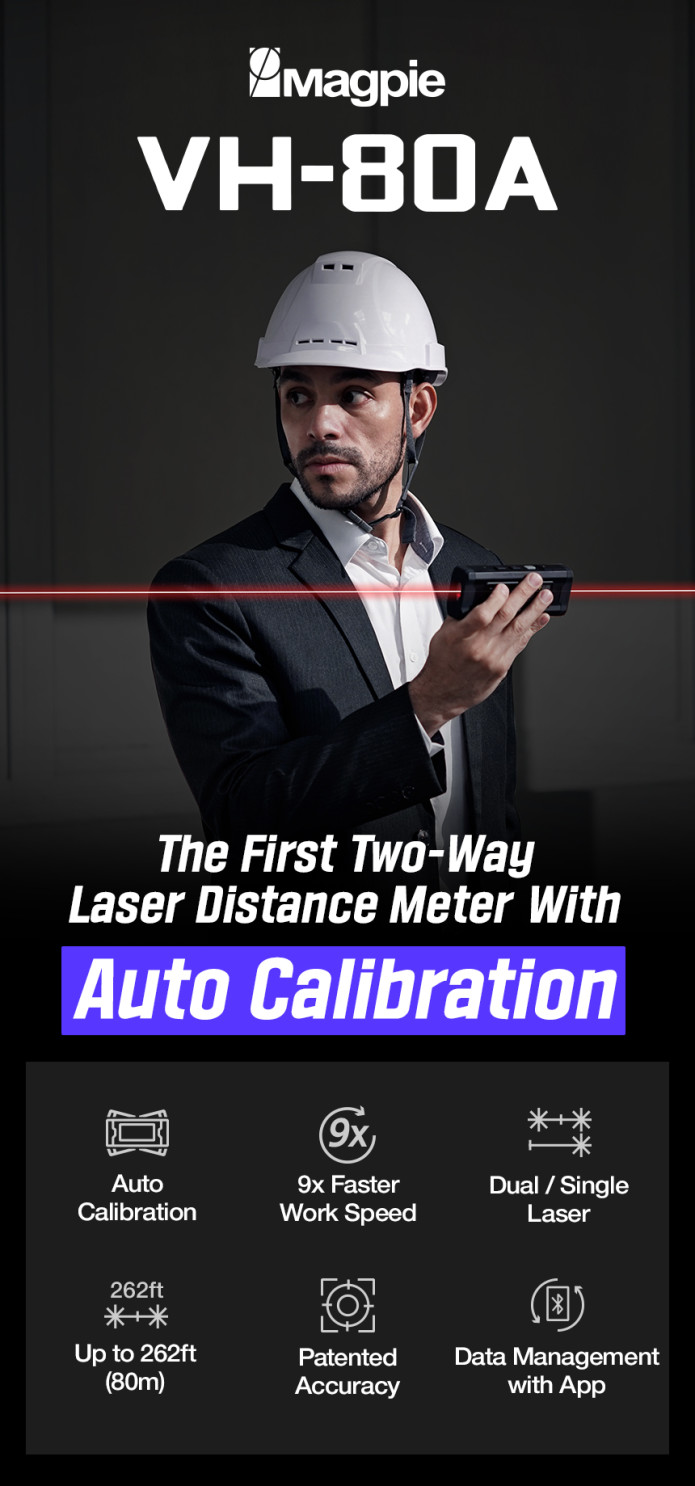 In 2017, we launched the VH-80 the first dual laser meter on Indiegogo. After the project, It quickly became the market leader, providing solutions to a wide range of measuring challenges and generating over $5,000,000 in sales worldwide.
We engaged directly with our customers to gather valuable feedback and analyzed over 800 reviews on Amazon for additional insights. From all the feedback that was collected, we utilized the negative feedback to improve our product and bring our customers even more satisfaction. Some of the reviews we received were: "Extra batteries needed" "Built-in angle sensor would help to measure more accurately" "The display can be difficult to read"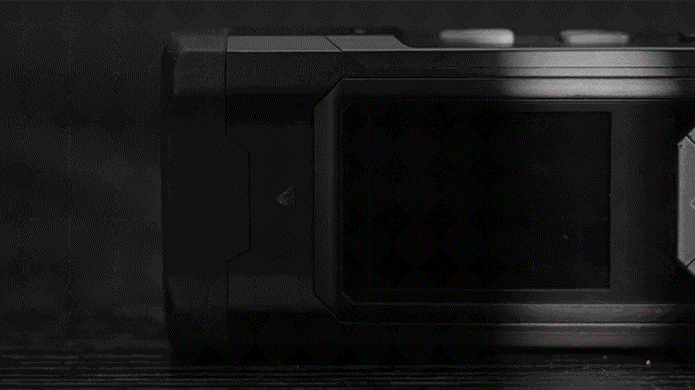 Thanks to all the feedback we received, we have created a new and innovative product to bring you a new paradigm of measurement.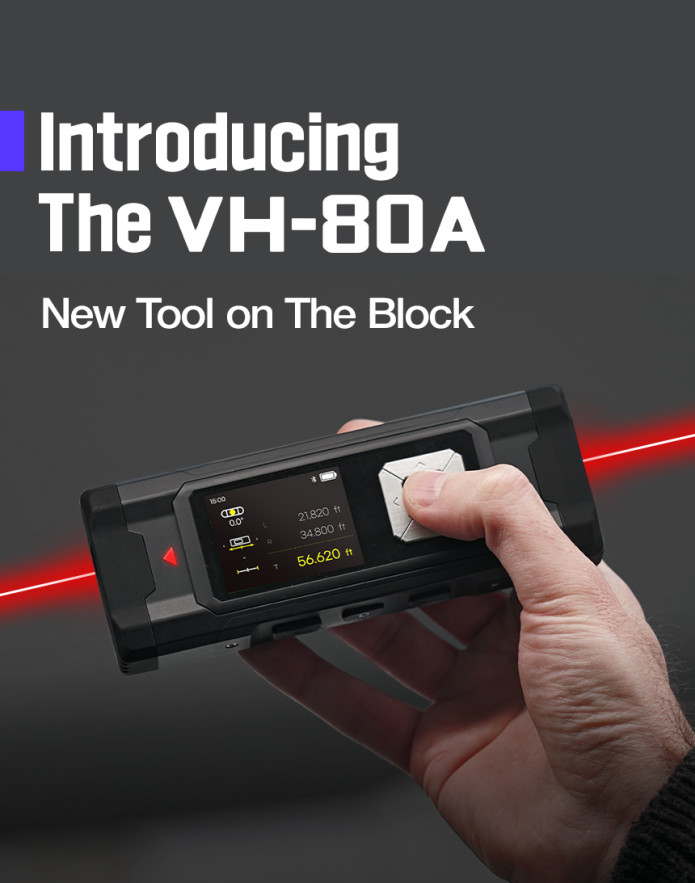 Introducing the VH-80A: The World's Most Advanced Dual Laser Measure with Auto Calibration technology. Say goodbye to clunky, slow, and inaccurate tools on the job. With the VH-80A, it's like having a personal assistant in your pocket to provide you the power and accuracy of a professional. You can take on any project with confidence and precision to become a true expert.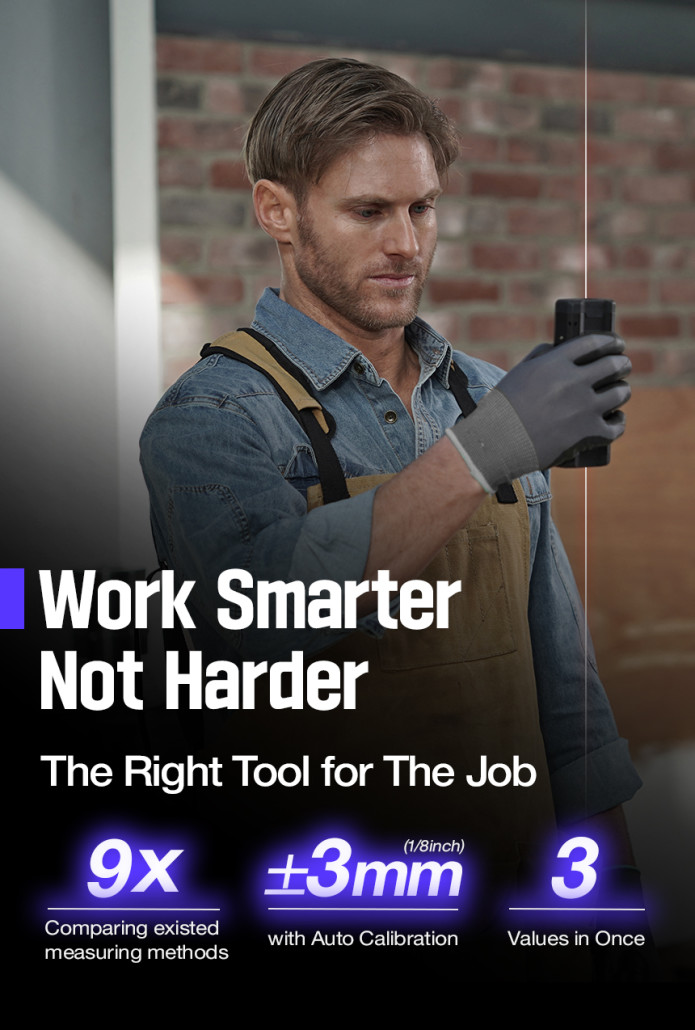 The dual laser technology enables more than nine times faster work efficiency than conventional measuring tools. With the ability to measure at any point on the line with just one click, VH-80A ensures quick and accurate results every time.
With the advanced Auto Calibration function, you can trust the VH-80A will deliver accurate measurement values, taking your measuring operations to a new level of comfort, efficiency, and professionalism.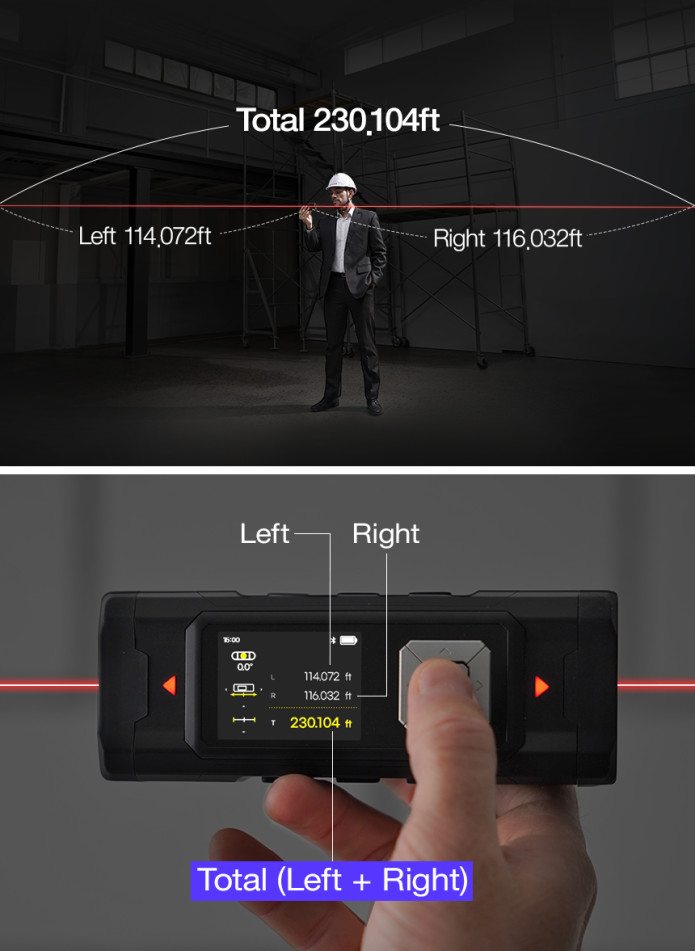 VH-80A provides three measurement values in just one take: left, right, and total distance. With this function, three measurements can be recorded, rather than only one measurement you get with other tools, to save you time and increase efficiency. It significantly reduces project time, allowing you to focus on what really matters. Save time and money with VH-80A.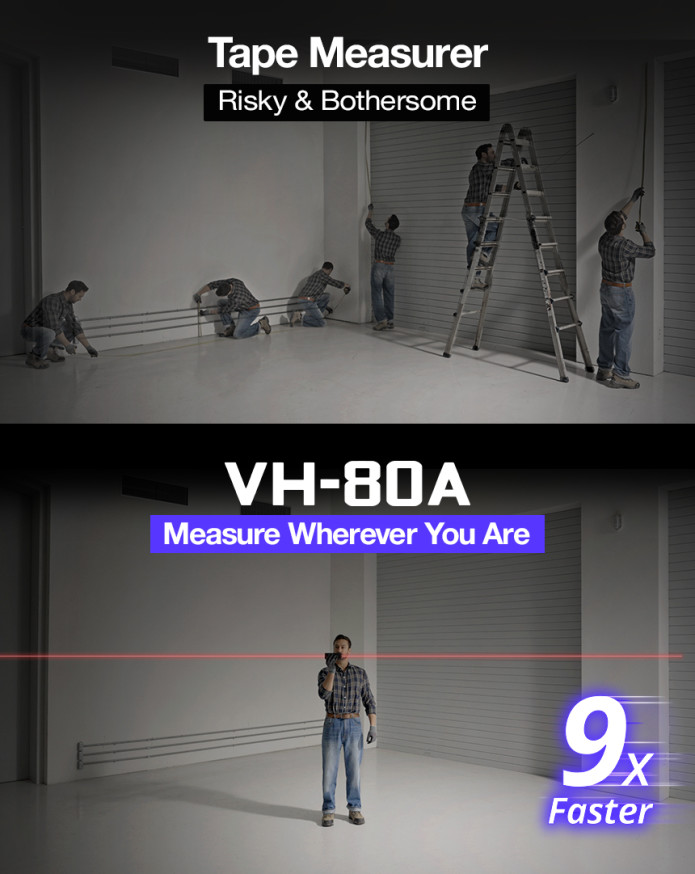 Experience the unparalleled convenience of Two Way Laser Technology with VH-80A. Don't rely on a bent ruler and avoid the discomfort of kneeling down for measurements. With VH-80A, true professionals don't need to move.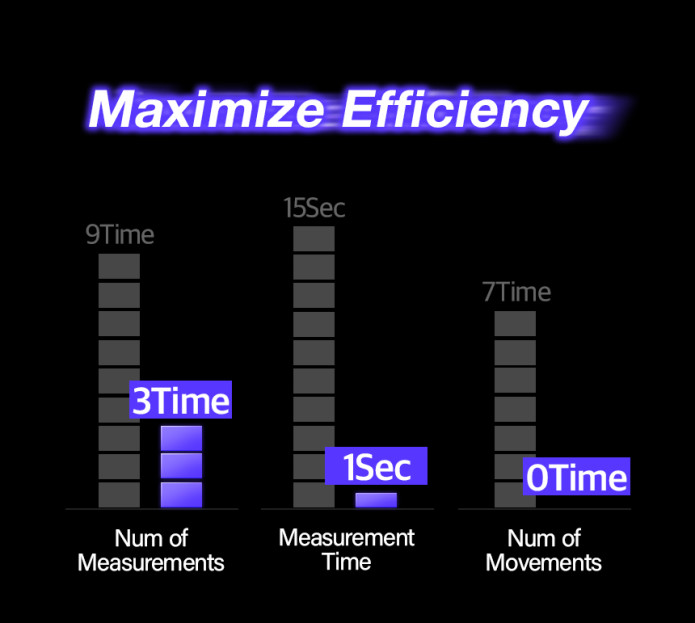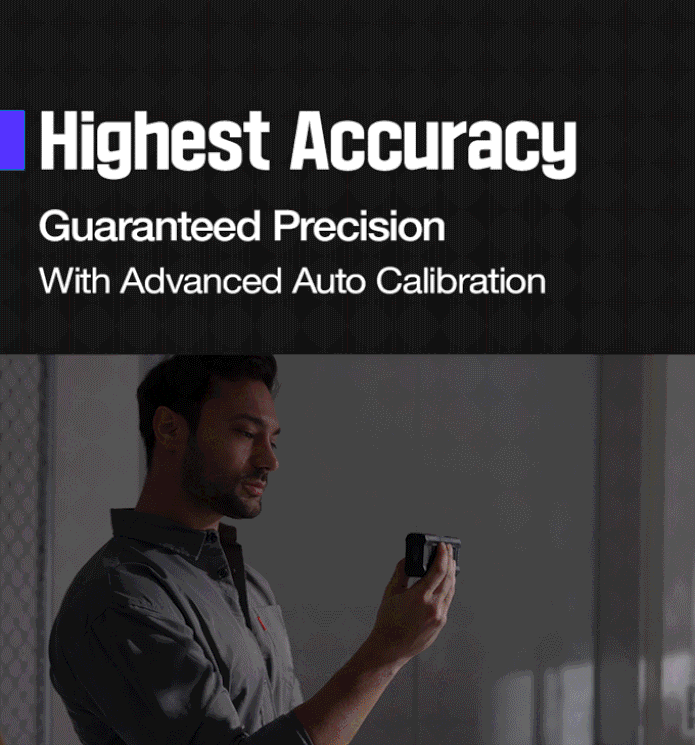 VH-80A's advanced auto-calibration technology is crucial for minimizing measurement errors and uncertainties during the measurement process. With VH-80A, there's no need to check the bubble for horizontal alignment. It measures the distance automatically as its built-in angle sensor detects  0 degrees, ensuring precise and accurate measurement values.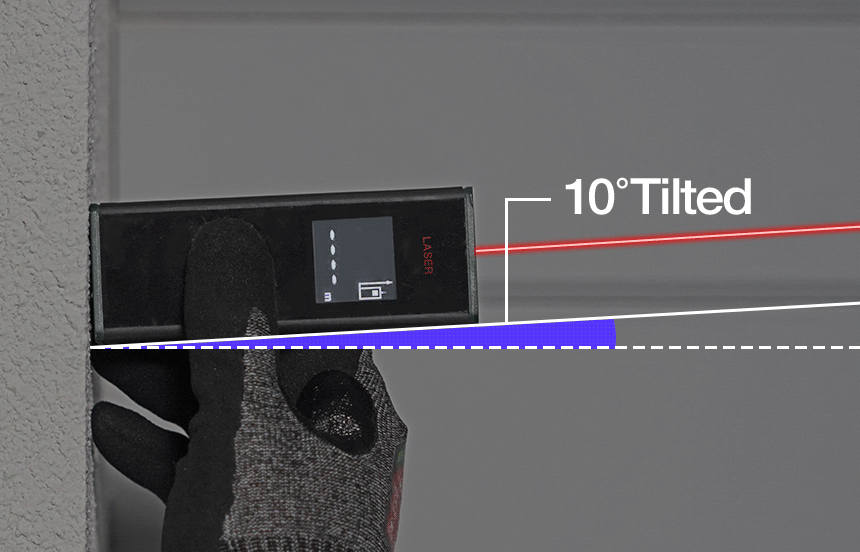 Have you ever experienced inaccurate measurements while you measure distance? At a distance of 30m (98ft), even a 10-degree difference can result in a measurement error of 5.1m (16ft). These measurement discrepancies often occur when the device is unintentionally tilted, or caused by hand tremors while you measure. To resolve accuracy issues caused by uneven measuring, we developed a new algorithm that greatly improves accuracy, making VH-80A the ultimate measuring tool for your project.
Now you can measure distance with perfect accuracy without considering measurement errors. The VH-80A Auto Calibration technology will automatically detects an angle of 0 degrees for the most balanced measurement to provide you with the most accurate value.
In addition to Auto Calibration technology, Magpie Phase Shift Analysis (MPSA), Magpie Tech's patented laser technology, ensures even higher accuracy. The MPSA advanced laser module maintains measurements with an error range of just 3mm, providing precise and accurate results.
When measuring, the transmitted laser wave is detected by the transmitter and the reflected laser is received by the receiver. Through the powerful multi-algorithm process of MPSA, VH-80A analyzes the results and determines the distance measured instantly.
Verifying your measurements can take a lot of time and effort. VH-80A comes equipped with angle and leveling sensors to help you complete and verify your measurements to the highest degree of accuracy. Perfect for woodworking, construction, carpentry, real estate agency and DIY projects.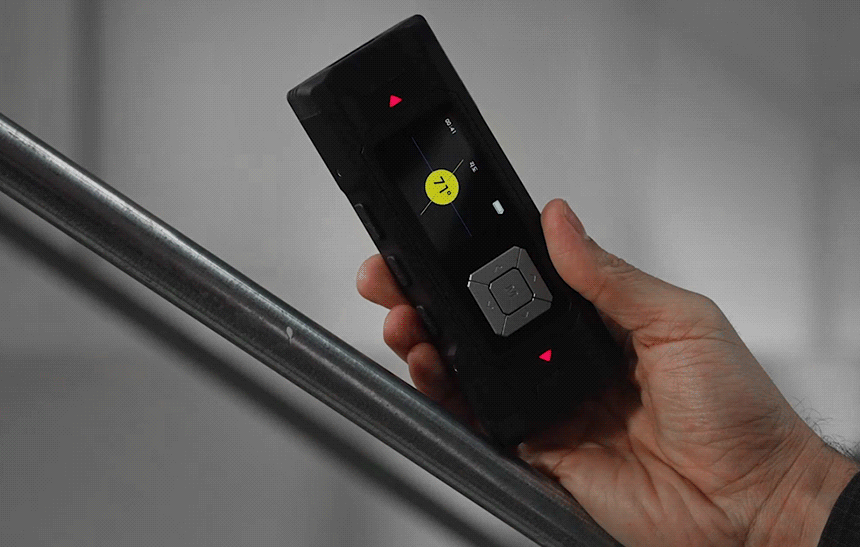 Finding angles has never been easier with the ability to check your measurements by switching to angle sensor mode for correct angle confirmation. Simply place the device down and the angle will be displayed.
Building on uneven surfaces can cause further delays and problems with your project. VH-80A's built-in sensors can detect if the surface area is flat or not. VH-80A's display will be highlighted green once the surface is flat.
Auto-Calibration with an angle sensor for accurate measurements, super charging, 62% bigger screen with color display, vibration for use in noisy environments, enhanced durability with three layers of protection and water resistance… A great deal of design and software upgrades were developed to make VH-80A. We have added over 10 unique functions and features compared to other models on the market.
Experience a new level of power and efficiency with the VH-80A. Supercharged by the innovative Magpie Max solution, it is designed to maximize battery life. The VH-80A can perform more than 1,000 measurements with only 1 hour of supercharging time, which makes it the ideal choice for demanding professionals. That's the magic of Magpie Max: maximum efficiency. With the VH-80A, you can focus solely on your projects without worrying about a dead battery slowing you down. You can do it all day.
The durability of a measuring tool in a rough work environment can have a significant impact on the work process. VH-80A is designed to meet the requirements of various job sites, not only in terms of features and functions, but also in terms of durability and toughness.
VH-80A features a triple-layered structure:  polycarbonate glass, protective sem and  dual-layered polycarbonate case design including urethane covered silicone.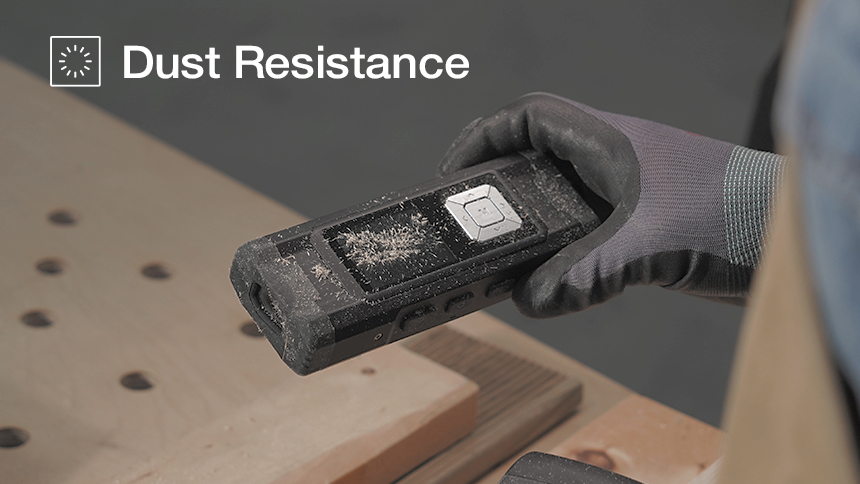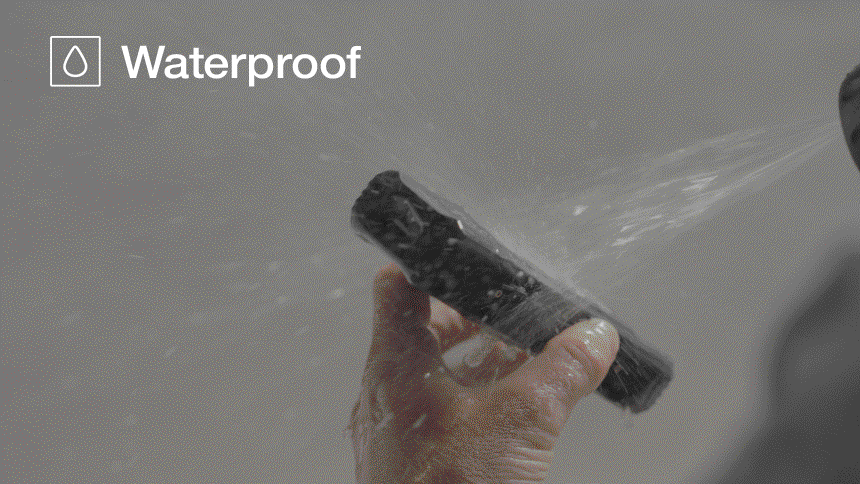 It has obtained an IP68 rating for dust and water resistance, making it suitable for use in the toughest conditions. Don't worry about how rough your work environment is – VH-80A can handle it.
By connecting VH-80A to the app, you can manage data and expand your tasks using different modes. With remote control, real-time measuring value transfer, sketch-making, and material calculation features, the app helps you complete even more measuring tasks with greater ease and efficiency.
Measure hands-free and with exceptional precision by controlling the device remotely with the app. As someone who cannot tolerate errors, mount the product on a tripod and measure remotely under perfect conditions. Don't worry about hand tremors during the measurement process anymore with the app.
Sketch mode lets you create detailed floor plans very quickly with the data you have measured by dragging and dropping. You can also edit photos and add your measurements onto them. Once you have completed your sketch, you can export it for using the data with 3rd program. Ideal for floor plan creation, sending initial plans to clients and storing measurements for projects.
Calculation mode is perfect for projects that require paint, wallpaper, tile or wood. Inputting the data into the app or seleting it from the records will estimate the quantity needed to cover a certain area with the selected material. Helping you save project time and material costs by lowering spend on unnecessary materials.
Area, Volume, In-Direct Height Measurement Using Angles, and Triple Indirect are all important calculations used by professionals to DIYers. Easily take the measurement you need and VH-80A will do the calculations.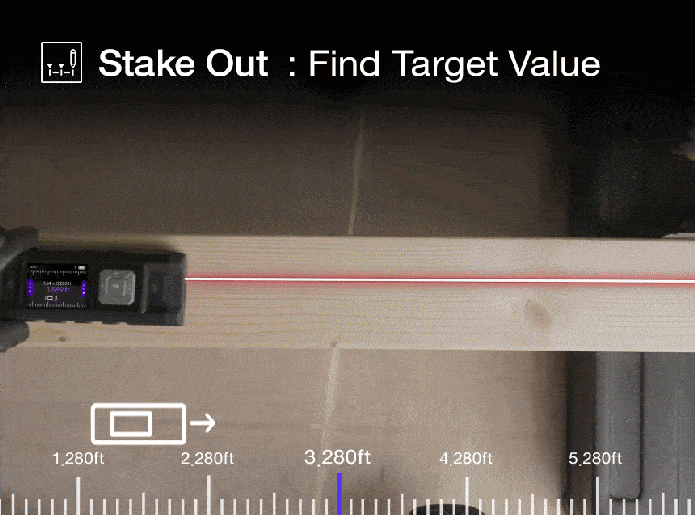 Stake out mode allows you to measure along a length until you find the exact measurement you are looking for. If you are measuring a piece of wood that needs to cut at a specific length, or if you need to transfer precise measurements from a blueprint or plan to an actual location, VH-80A will alert you when the length has been reached to the value you set. This digital tape mode will come in handy in all sorts of ways to help you complete more tasks with a single tool.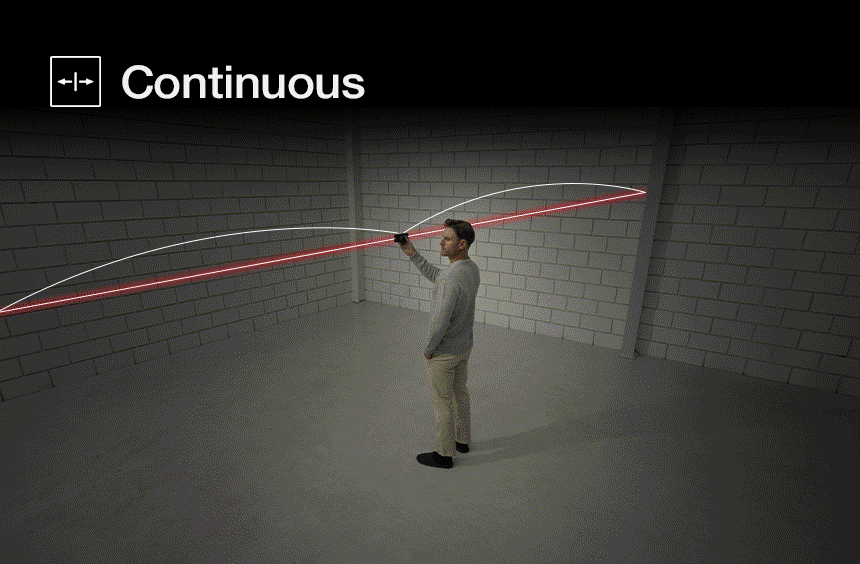 When you activate the continuous measurement mode, VH-80A takes three measurements per second. With real-time distance monitoring, VH-80A is capable of providing left, right, and total values simultaneously, making this mode useful for finding the midpoint or dividing the overall distance for tasks such as when hanging a picture frame at the center of a wall.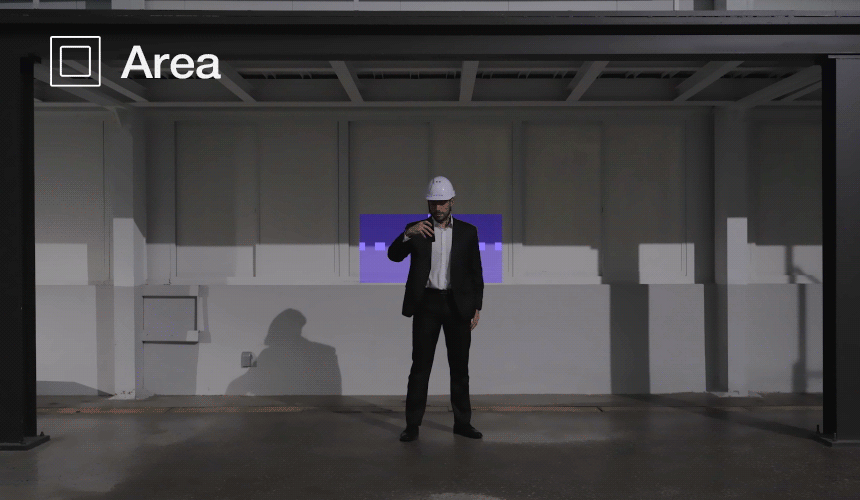 Area is a measurement of space inside a specific shape. Calculating the area of a shape or surface can be useful in everyday life. For example, you may need to know how much paint to buy to cover a wall or how much grass seed you need to sow a lawn.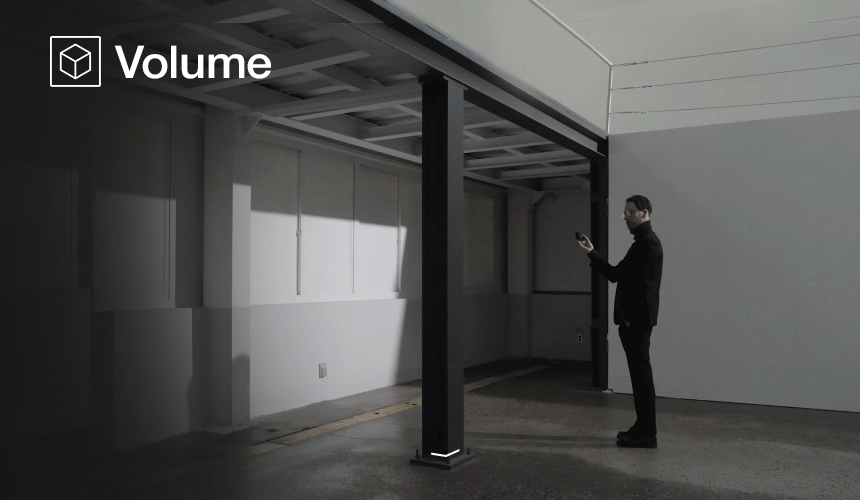 All 3-dimensional objects occupy a certain amount of space, which is measured in volume. The volume measurement mode is useful for measuring the volume of empty spaces, such as a warehouse, in order to fill them with items.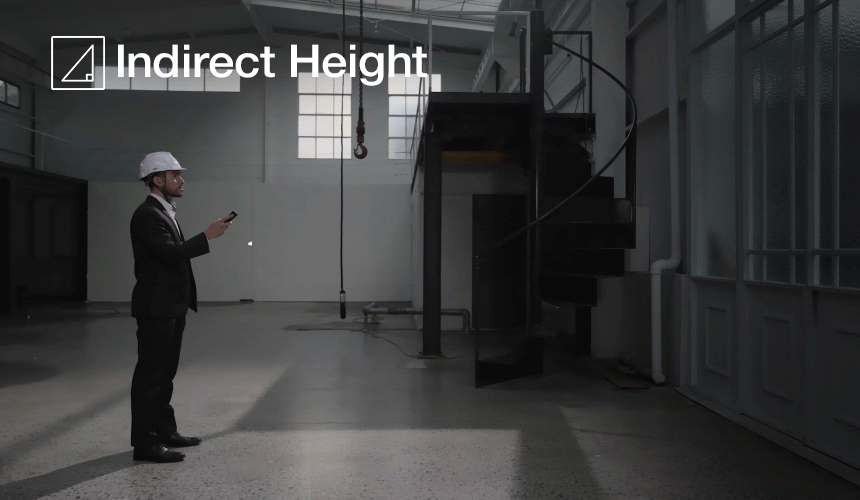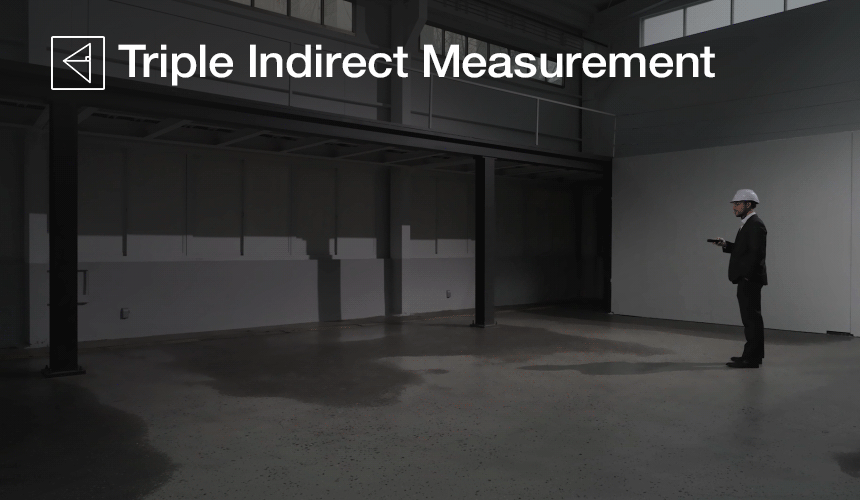 By using Pythagorean Theorem, VH-80A supports Indirect Height and Triple Indirect Height Calculation modes , which are useful for measuring the length of height indirectly. You can stand in one place and obtain the desired height that is far away without having to move.
With job sites becoming more demanding and require a variety of measurement to complete all the tasks. Device customization can make all the difference to help you work more efficiently. VH-80A comes with a handful of preference settings for each user depending on their circumstance.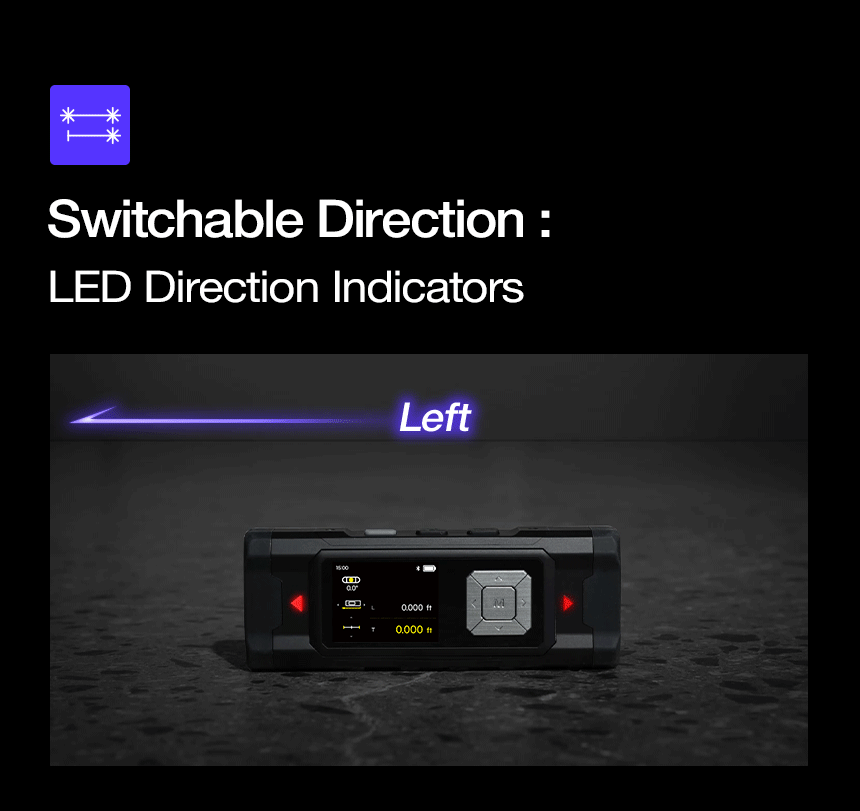 With the One-Way Laser Mode, you can use the VH-80A like the normal laser meter for you convenience. Plus the VH-80A displays the set direction with an LED direction indicators. This eliminates the need to check the display or both lasers to confirm the laser direction.
Not all measuring requires dual lasers to complete the job. Switch between a dual to single laser depending on when you need it. You can further customize the device to either include the body of the device or exclude it when in single laser mode.
The bookmarking button lets you set the laser direction, unit type, calculation and binds it to the quick access button. This feature is very handy and helps you save time when completing any project. Set your measurements and go about your task with ease and VH-80A will store the measured data to the app.
Reading measurements clearly without straining your eyes is important for any job. VH-80A comes with adjustable brightness to match your surroundings.
Measuring requires varies angles and positions, and sometimes the device is unable to rotate to show results clearly. Especially with vertical and horizontal measurements, VH-80A rotates for easy use and the device can easily be kept at eye level.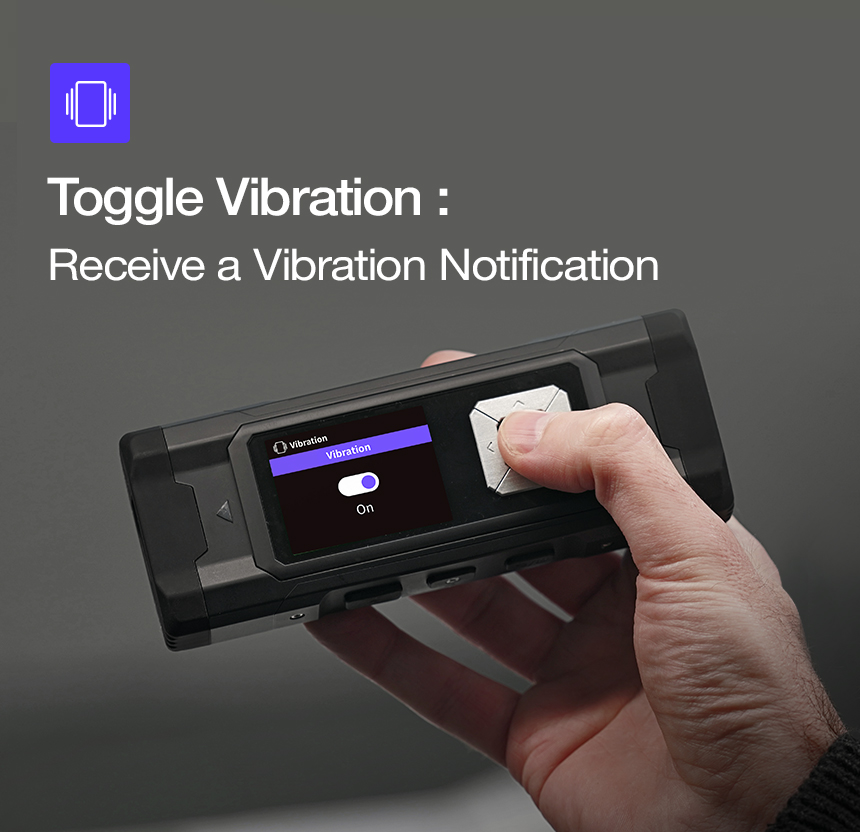 VH-80A uses vibrations to communicate the measurement is complete. This is a more subtle way to reduce noise on the job. Vibration mode can also be toggled on and off to reduce any noises coming from the device to customize for your need.
The VH-80A is designed for global use and is compatible with both imperial and metric systems. The device's unit preferences are applied to all calculations and functions, and can easily be switched between units directly on the device or the app.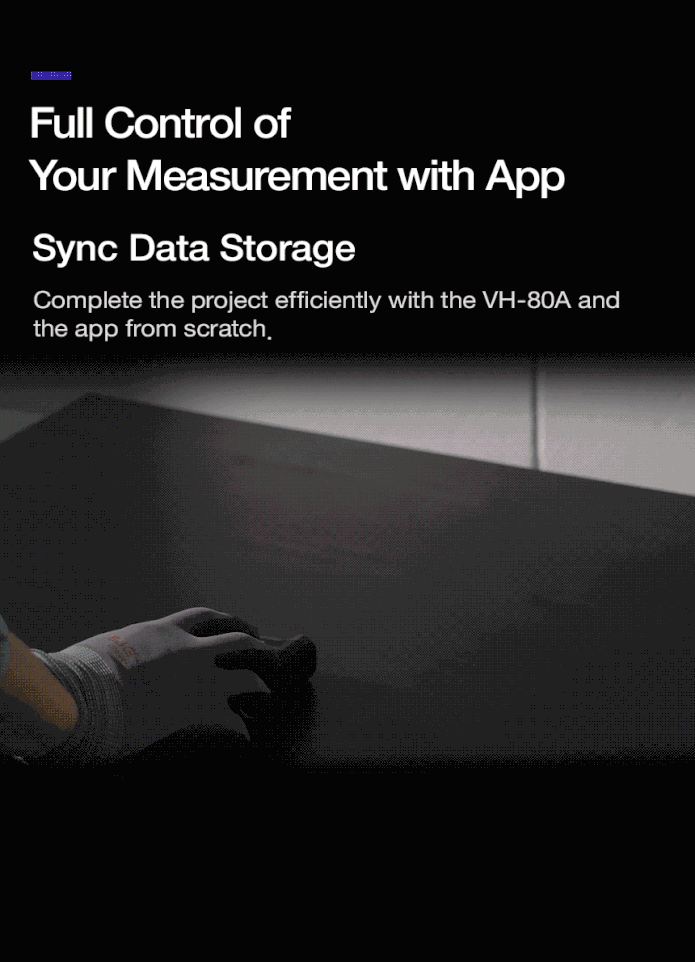 This isn't our first rodeo, and we are excited to be back on Indiegogo after 4 successful campaigns. Thank you for all your support. We have come along way all thanks to you!

We are proud to produce VH-80A in our own factory located in South Korea. Our team oversees the whole process from start to finish. We manufacture, test product quality and ship everything from right here.
Our team is comprised of experienced individuals who are passionate about delivering VH-80A right to your doorstep. Our team compromises of a closely-knit team who have been working together for the past 5 campaigns.
The Magpie team has participated into +35 exhibitions all over the wolrd,  to build brand awareness and establish trust with our customers. Take a look at our past exhibitions all around the world.